Sale!
Buy Windows VPS Online
Windows VPS Online
SSD-Powered VPS Servers for Windows Web Hosting, SQL Server Database Hosting, Remote Desktop Access (RDP), Forex Trading and Web Surfing.
Description
Buy Windows VPS
As a Windows user, you may have always thought that Windows VPS was just an on-computer software. You may never have heard about the Windows server of the Windows operating system.
2 GB RAM
2 CPU Cores
60GB SSD Disk Space
500Mbps Speed
Once per Four Weeks VHD Backup
Tech Support
Free DNS
RDNS Setup
1 Dedicated IP
$2.00/m/Additional IP
Haw Many day Lasting Not Sure Minimum 7 day Or Maximum 3 Month..VPS Buy 24 hour Any Problem Issue Instand Solve Or Other wise Back your Money .
Why you need
Our Windows VPS
1. Multi Location Available
We support multi location for your VPS. At this time, we have data center available in US, CA, DE, FR,…
2. Pure SSD
100% SSD storage in our network. SSD is faster than HDD around 100-200 times. The best performance for our customers.
3. RDP Enable By Default
Remote Desktop was enable by default. You just need to open remote desktop program of any windows client and remote your VPS. It is FREE and EASY to use.
4. Instantly Setup Time
Your VPS will be setup immediately after successful payment. And It takes us 10-15 minutes to completed.
5. 1Gbps Network Connection
1Gbps Network Connection. All our nodes is running on 1Gbps ~ 1024Mbps. Your VPS run with highest internet connection.
6. FREE IPv4 & IPv6
FREE dedicated IPv4 and IPv6 for all our VPS. You can order more IPv4 if you need.
Why Use a Windows VPS Server?
Our Windows VPS servers offer enormous practicality in their management due to the use of a graphical interface via Remote Desktop, that is, practically your home computer connected 24 hours a day inside our datacenter. We don't use old or recycled servers, all our servers are new.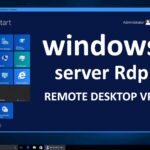 Buy Windows VPS Online
Your review
* Review is required
Email
* Email is required